About
Allied Academic Publication is an amalgamation of several esteemed academic and scientific associations known for promoting scientific temperament. Established in the year 1997, Andrew John Publishing Group is a specialized Medical publisher that operates in collaboration with the association and societies. This publishing house has been built on the base of esteemed academic and research institutions including The College of Audiologists and Speech Language Pathologists of Ontario(CASLPO), The Association for Public Safety Communications Officials of Canada (APCO), The Canadian Vascular Access Association (CVAA), The Canadian Society of Internal Medicine (CSIM), The Canadian Hard of Hearing Association (CHHA), Sonography Canada, Canadian Association of Pathologists (CAP-ACP) and The Canadian Association of Neurophysiologic Monitoring (CANM).
Welcome Message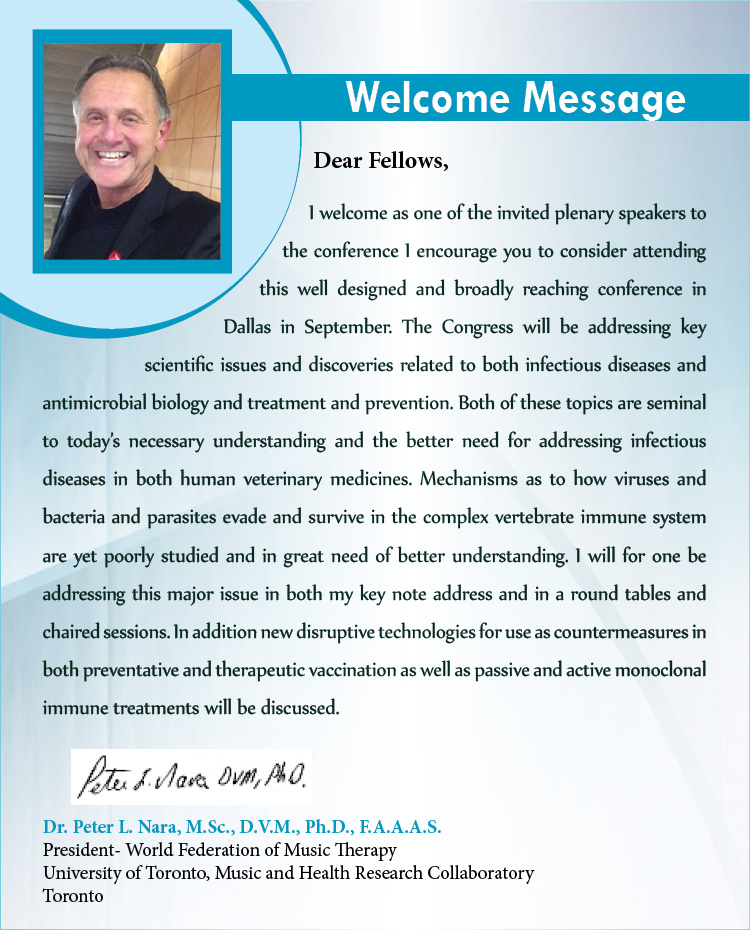 Sessions/Tracks
Track 1: Infectious Diseases:
Medical microbiology deals with the body's response to invading microorganisms. Bacteriology, virology, mycology, parasitology, the major subfields of microbiology are first covered with the general concepts of cytology and physiology of different microbes and then with major pathogens of humans. Stress on the mechanisms of infection characteristic of that type of microorganism, provide the audience with a framework for understanding rather than memorizing the clinical behaviour of the pathogens. The concepts and emerging trends in pathogenesis of microbes and their virulence mechanisms, their genetic background provide a deep insight into the understanding of disease establishment and progression. Recent research on nematodes and protozoans will contribute in making advancements in the emerging studies. Knowledge on parasites, diversified roles and their interactions with the host will bring awareness on the importance and existence of extremely minute organisms. The next section comprises of introduction to the Polymicrobial diseases and the tropical diseases, arranged by organ system and provides transition for clinical considerations. Microbial generations are smarter enough to bring about a change in their resistance patterns, thereby paving a way for development of newer strategies and emerging trends in combating the microbial infections. There has been an enormous modification in the diagnostic methods and tools starting from the basic nucleic acid probing to circulating biomarker studies.
Track 2: Bacteriology
Bacteria play a vital role in the biosphere and certain key processes, such as, the production and oxidation of methane, soil formation, conversion of rock to soil etc. Bacteria are single-celled microorganisms and the part of microbiological science which encompasses the study of bacteria is known as "Bacteriology". Major researches in bacteriology over the past years resulted in the development of many useful vaccines. The ancestors of present bacteria were said to be first forms of life on earth. Bacterial cells are about 0.5-5.0 micrometres in length. Bacteria exists in different shapes like single celled, diploid (Neisseria), chains (Streptococcus), filaments (Actinobacteria).Bacteria lack membrane bound organelles, contains single loop DNA, it generally undergo conjugation. There are techniques like staining to differentiate Gram positive and Gram negative bacteria.
Track 3: Virology
A viral contamination is one of the real reasons for human and animal illness. Virus genomes are small and they are unimaginably different and subject to quick hereditary change. Virus have their own particular manners of transmission. The portability of animals builds the systems of viral transmittance that are advanced, while plants stay stable and in this way infections should depend on ecological components to be transmitted between hosts.
Track 4: Clinical Microbiology
Clinical microbiology as a branch of science deals with the interrelation of macro- and microorganisms under normal and pathological conditions. It provides comprehensive information on the identification of different microorganisms and outlines recent vicissitudes in taxonomy. Microbial profiling is the relegation of microbes predicated on experiments, resulting expeditious identification. This system is developed for expeditious identification of clinically germane organisms and hence only kenned microbes can be identified. The predominant proteomic technologies that have been explored for microbial identification and characterization include matrix-availed laser desorption/ionization time-of-flight mass spectrometry (MALDI-TOF-MS); electro spray ionization mass spectrometry (ESI-MS); surface-enhanced laser desorption/ionization (SELDI) mass spectrometry; one- or two-dimensional sodium dodecyl sulphate–polyacrylamide gel electrophoresis (SDS-PAGE); or the coalescence of mass spectrometry, gel electrophoresis, and bioinformatics. In the context of plants, two symbiotic systems have been actively studied for many years. One is arbuscular mycorrhizal (AM) symbiosis and the other is root nodule (RN) symbiosis. Oral bacteria have evolved mechanisms to sense their environment and eschew or modify the host.
Track 5: Diagnostic Microbiology
Diagnostic medical microbiology is concerned with the etiologic diagnosis of infection. Diagnostic microbiology encompasses the characterization of thousands of agents that cause or are associated with infectious diseases. The techniques used to characterize infectious agents vary greatly depending on the clinical syndrome and the type of agent being considered, be it virus, bacterium, fungus, or parasite. Because no single test will permit isolation or characterization of all potential pathogens, clinical information is much more important for diagnostic microbiology than it is for clinical chemistry or hematology. Many pathogenic microorganisms grow slowly, and days or even weeks may elapse before they are isolated and identified. Treatment cannot be deferred until this process is complete. After obtaining the proper specimens and informing the laboratory of the tentative clinical diagnosis, the clinician should begin treatment with drugs aimed at the organism thought to be responsible for the patient's illness. There are many diagnostic procedures to identify the causative organism ranging from the evergreen nucleic acid probing amplification tests, Ag-Ab tests, Cytometry tests to biosensors and biotection. From the past few years, NGS, digital PCR and proteomic based tests have emerged and are gaining successful results in diagnosis.
Track 6: Biofilms
Microorganisms attach to surfaces and develop biofilms. Biofilm-associated cells can be differentiated from their suspended counterparts by generation of an extracellular polymeric substance (EPS) matrix, reduced growth rates, and the up- and down- regulation of specific genes. Attachment is a complex process regulated by diverse characteristics of the growth medium, substratum, and cell surface. An established biofilm structure comprises microbial cells and EPS, has a defined architecture, and provides an optimal environment for the exchange of genetic material between cells. Cells may also communicate via quorum sensing, which may in turn affect biofilm processes such as detachment. Biofilms have great importance for public health because of their role in certain infectious diseases and importance in a variety of device-related infections. A greater understanding of biofilm processes should lead to novel, effective control strategies for biofilm control and a resulting improvement in patient management.
Track 7: Microbial Genetics
Microbial genetics is concerned with the transmission of hereditary characters in microorganisms. It plays a unique role in developing the fields of molecular and cell biology. It has also found applications in medical, agricultural, food and pharmaceutical industries. Microbes are ideally suited for combined biochemical and genetic studies, and proved to be successful in providing information on genetic codes and gene regulations. After the discovery of DNA transfer, bacteria were of great interest because of their higher rate of reproduction and mutation than other larger organisms. Conjugation, transformation, and transduction are the important methods for mapping the genes on bacterial chromosomes. Recombinant DNA technology, selection, mutation, reproductive cloning, and use of plasmids form a part of genetic engineering tools. Metagenomics is the study of genetic material derived from environmental samples. Microbial genomics can be used to create new biofuels. Pathogenicity islands are discrete genetic loci that encode more virulent factors.
Track 8: Applied Microbiology
Microorganisms have been used as sources of antibiotics, vitamins and enzymes and for the production of fermented foods and chemicals since many decades. In the current century, microorganisms are and will play a vital role in addressing some of the problems faced by mankind. Microbes have a significant role to play in the discovery of antibiotics, microbial vaccines, immune system modulating agents, disinfectants, anti-microbial coatings, manufacturing of biofuels and bioplastics, using biotransformation for the production of fine chemicals and many other therapeutic agents. Hence, microbes have proved beneficial for the survival of mankind.
Track 9: Environmental Microbiology
Environmental microbiology is about the composition and physiology of microbial communities in the environment. The environment in this case includes soil, water, air, sediments, animals and plants. It also includes artificial environments like Bioreactors. Molecular biology has revolutionized the study of microorganisms in the environment and improved our understanding of the composition, phylogeny, and physiology of microbial communities. The present molecular technologies include DNA-based technologies and new methods for RNA and protein studies from environment samples. Currently there is a major emphasis on the application of "omics" approaches to determine the identities and functions of microbes inhabiting different environments. Microbial life is amazingly diverse and microorganisms literally cover the planet. Microorganisms can survive in some of the most extreme environments on the planet and some can survive high temperatures, often above 100°C, as found in geysers, black smokers, and oil wells. Some are found in very cold habitats and others in highly salt/saline, acidic, or alkaline water. Microbes play a crucial role in oil biodegradation, degradation of aromatic compounds and analysis of waste bio treatment.
Track 10: Water and Food Microbiology
An ecological approach is organized by habitat, from freshwater and salt water to extreme and anthropogenic systems. It offers new insights into the differing rates of microbes in various aquatic habitats, their relative abundance and growth rates, and their contribution to the biochemical cycling of elements. Freshwater and marine ecosystems provide an array of critical ecosystem services such as participating in various biogeochemical cycles and nutrient exchange, providing natural protection and habitat, degrading and dispersing many environmental pollutants. Concentrating on the interactions between micro-vertebrates and micro-invertebrates, the track gives a wide biological appeal. Food Microbiology focuses on microbes having both beneficial and deleterious effects on the safety and quality of foods, thereby becoming a public concern. Food science includes microbial interactions with various foods and food chain environments including their adaptation and response mechanisms to food processing and handling stresses. Both microbial versatility and diversity can be exploited biotechnologically and industrially for the improvement of quality, safety and healthy processes of processed foods. An in-depth exploration of microbiology of fermented foods will prove commercially beneficial.
Track 11: Veterinary Microbiology
Veterinary research includes studies on prevention, control, diagnosis, and treatment of diseases and on the basic biology and welfare of animals. It transcends species boundaries to include the study of spontaneous and experimental models of both human and animal disease and research at important human-animal interfaces, such as food safety, wildlife and ecosystem health, zoonotic diseases, and public policy. Veterinary research serves as the interface of basic science and animal and human health that is critical to the advancement of our understanding of and response to impending risks and to the exploitation of disciplinary advances in the pursuit of One Medicine. The urgent need to provide adequate resources for investigators, training programs, and facilities involved in veterinary research must be met to seize the opportunities to improve the well-being of humans and animals and to minimize risks to their health
Track 12: Industrial and Pharmaceutical Microbiology
Industrial microbiology is also termed as microbial biotechnology. It employs application of scientific and engineering principles to process the materials by microorganisms or plant and animal cells to create useful products and processes. The microbes utilized may be natural isolates, selected mutants from the laboratories or microbes that are genetically engineered using recombinant DNA technologies. Areas under industrial microbiology include quality assurance for the food, pharmaceutical, and chemical industries. Industrial microbiology may also be responsible for contamination of air and plants, destroying the animal health used in testing products, and discovery of newer pathways and microbes. Industrial microbiology has proved beneficial for the discovery, development, or implementation of certain processes like antibiotics, antimicrobials, vaccines, health-care products foods and beverages food flavouring agents, preservatives, enzymes, carbohydrates. It is also involved in checking the quality of resultant products. Other uses of industrial microbiology include recovery of oil or mining, contamination control, degrade or transform pollutants and also in waste water management. This may lead to the discovery or engineering of microbes to solve contamination and recycling issues and thereby assess the environmental safety of new products.
Market Analysis
Importance and Scope:
Microbiology has become increasingly important to human society. It has emerged as one of the most important branches of life sciences. As microbes practically affect all activities of our life like, food, clothing, shelter, health hygiene etc., microbiology has made vast progressive strides in all these fields in little less than a century to improve the quality of our life. Infectious diseases have almost been conquered by new drugs, quality of agricultural crops improved by using techniques of genetic engineering, new varieties of wines, liquors have been produced- all these are possible only because of microbiology. All these will make us wonder how our life would have been without the knowledge of microbiology.
Why Dallas?
Dallas is currently the third most popular destination for business travel in the USA, and the Dallas Convention Center is one of the largest and busiest convention centers in the USA. The most notable event held in Dallas is the State Fair of Texas.
The University of Texas Southwestern Medical School is a medical school located in Dallas. It is part of the University of Texas Southwestern Medical Center at Dallas, one of the largest grouping of medical facilities in the world. The facility is home to five Nobel Laureates, four in physiology/medicine and one in chemistry. UTSW is part of the University of Texas System. UT Dallas, or UTD, is renowned for its programs in computer science, neuroscience. Susan G. Komen for the Cure, the world's largest breast cancer organization has its headquarters in Dallas.
Dallas has many hospitals and a number of medical research facilities within its city limits. One major research center is the Dallas Medical District with the UT Southwestern Medical Center. The University of North Texas Health Science Center, commonly known as the UNT Health Science Center is a graduate-level institution. Parkland Memorial Hospital is one of the "America's Best Hospitals" and the Hormonal Disorders specialty at Parkland Memorial Hospital is rated among the best in the nation.
With all these microbiology related organizations, Dallas is suitable venue for this conference.
Major Microbiology Associations Around the Globe:
International Union of Microbiological Societies

Society for general Microbiology

American Society for Microbiology

Canadian Society of Microbiologists

British Infection Association

European Society of Clinical Microbiology and Infectious Diseases

Federation of European Microbiological Societies

Welsh Microbiology Association

Clinical Virology Network

Federation of Infection Societies

Infectious Diseases Society of America
Market Research on Microbiology:
The consumables, equipment and technology markets in the microbiology industry totaled nearly $7.7 billion in 2012. This total is expected to grow from $8.5 billion in 2013 to $11.4 billion in 2018, with a compound annual growth rate (CAGR) of 6.1% for the five-year period, 2013 to 2018. According to BCC Research, the fastest moving sectors within this industry are the public health and biofuel sectors. The public health sector will be driven by the uptake of new technologies within the industry, particularly laboratory automation and rapid microbiological methods. Among the three broad sectors, the consumables market will be largely driven by the broader shift away from older technologies that require more consumables to newer technologies that minimize the need for resources to operate laboratories. Moderate growth is expected in the microbiology equipment sector, resulting from the typical rotation of equipment, as well as what is needed to support broad sector growth. Finally, the automation and technology sector will grow the fastest resulting from the rise of rapid microbiological methods, particularly within the public health sector, and increased use of microbes in bioremediation efforts in the environmental sector.
This technical market research report explores the broader microbiology industry, including forecasted trends and sales through 2018. It discusses key manufacturers, suppliers, users and factors such as demand drivers. The plethora of market opportunities throughout microbiology, from culture plates and reagents to high automated systems are also identified. Most importantly, it looks at the product mix throughout the various sectors of the market, noting where key differences arise between sectors in product mix and product usage. This is reflected in the focus on the particular sectors in which microbiology is used to support industry, the countries and regions involved, and the key product mix within these sectors to highlight the unique challenges and opportunities within the market.
Need for anti-microbial drug development:
The need for new antimicrobial agents is greater than ever because of the emergence of multidrug resistance in common pathogens, the rapid emergence of new infections, and the potential for use of multidrug-resistant agents in bioweapons.
Top 15 global pharmaceutical companies manufacturing antimicrobial products:
Merck and Co

Johnson and Johnson

Pfizer

GlaxoSmithKline

Bristol-Meyers Squibb

Aventis

Pharmacia

Novartis

F. Hoffmann-La Roche

AstraZeneca

Abott Laboratories

Wyeth

Eli Lilly and Co

Schering Plough

Bayer
Funding sources for microbiology research and prevention of microbial diseases in USA:
Many U.S agencies are working to improve the health of world's population. Under the Global Health Initiative (GHI), there is a concerted effort to improve coordination across U.S. agencies to increase efficiencies and align investments with recipient country priorities, with the aim of making programs sustainable. Some of the major funding agencies include:
Centres for disease control and prevention

NIH

The global fund to fight AIDS, TB and Malaria.

UNAIDS

ASM

AAAS

ASTMH

IDSA etc.
Anti-microbial drugs approved by FDA in 2015:
Avycaz

Bexsero

Cresemba

Evotaz

Prezcobix